Our loans can help New Zealanders on low incomes to get through a tight spot.
We offer small, safer, interest-free loans to New Zealanders who've hit a tough patch and don't know where to turn.
Our GetControl Debt Relief Loan (up to $3,000) can help you pay off high-interest debt, while our GetAhead Asset Building Loan (up to $2,000) can help you pay for the essential things you need.
As well as helping organise your loan, a financial mentor will coach you on how to get ahead with your money – so you'll have fewer tight spots in the future.
Why our little loans are safer and kinder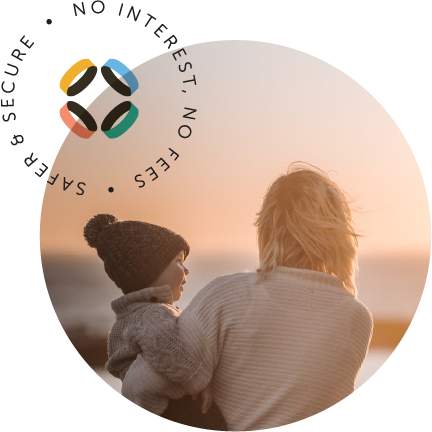 We're a non-profit

As a non-profit, we have your best interests at heart rather than charging high interest. We know how stressful it is having bills flooding in – or trying to pay off crippling, high-interest loans – so we're here to help.

Our loans are interest-free and fee-free

They're designed to help you to get on top of your money, so that high interest doesn't get on top of you. You just pay off the amount of the loan, with absolutely no interest or fees.

We help you get ahead

Your financial mentor will help you set up your loan, and coach you on how to improve your money skills. That way, you'll feel less stressed and more in control.

We're not a big bank, but we're backed by one

Our loans are backed by our financial partner. Kiwibank. Like us, they're big believers in doing what's right and helping Kiwis to get ahead financially, so you know you're in good hands.
We can help you if...

You're a New Zealand citizen

You're eligible for a community services card

You're happy to work with a financial  mentor
PERSONAL STORY
Meet Maria, who went from a 'tough run' to 'under control.'
Maria* had been through a tough run of luck. Her debts were piling up and she was feeling very stressed about her financial situation.
"My long-term interest was building up," she explains. "My health was failing me and I couldn't work. I was going without the basics – things just got a wee bit ridiculous."
Maria had been working with a budget advisor at Jubilee Budget Services in Invercargill, who mentioned applying for a loan from Ngā Tāngata Microfinance a while back, but Maria turned it down at first. "She told me all about it and gave me a brochure to read. I thought it was great, but at first I wasn't keen on involving anyone else in my personal affairs."
* Name changed to protect identity
Our amazing partners
Kiwibank
Kiwibank provides the capital that Ngā Tāngata Microfinance lends to our customers, and has provided technical and commercial support to Ngā Tāngata Trust to help us establish our much-needed services.
Child Poverty Action Group
CPAG is an independent charity working to eliminate child poverty in New Zealand. One of the founding members of NTM Trust, CPAG supports our goal of offering a fair alternative to fringe lending – safer, affordable credit.
FinCap
FinCap provides support and advice to nearly 200 budgeting centres and over 2000 financial mentors and is an essential partner in helping clients to access Ngā Tāngata Microfinance's services.
Good Shepherd Microfinance
Good Shepherd is committed to supporting microfinance in New Zealand. They provide the knowhow, systems, training and quality assurance for our loans, helping us to grow and assist even more New Zealanders.
JR McKenzie Trust
With a focus on working towards a more socially just and inclusive Aotearoa, especially for Māori and disadvantaged children and their families, J R McKenzie Trust provides funding for administration and support to NTM Trust.
Ministry Of Social Development
We are pleased to have the support of the Ministry of Social Development as part of our service to provide fair, interest-free financing to low income New Zealanders, and to help our clients improve their financial literacy.
New Zealand Council of Christian Social Services
NZCCSS is a founding member of Ngā Tāngata Microfinance. Its members help to practically support the roll-out of ethical and affordable financial services for low income New Zealanders through all of our communities.
Presbyterian Support Northern
As a provider of budgeting and total money management services, PSN has supported Ngā Tāngata Microfinance since we began, and strongly supports ethical, affordable financial services for those on low-incomes.
The Good Registry
The Good Registry gives thousands of New Zealanders the power to do good, with donations to causes they care about (like Ngā Tāngata Microfinance), instead of unnecessary or unwanted gifts.