We offer fairer, kinder, interest-free loans to New Zealanders who've hit a tough patch and don't know where to turn.
Our GetControl Debt Relief Loan (up to $5,000) can help you pay off high-interest debt that's getting on top of you, while our GetAhead Asset Building Loan (up to $3,000) can help you pay for the essential things you need.
Or you may be eligible for our GetSet Loan, a combo of both loans (up to $3,000).
Plus, a financial mentor will coach you on how to get ahead with your money as well as help organise your loan – so you'll have fewer tight spots in the future.
Why our little loans are fairer and kinder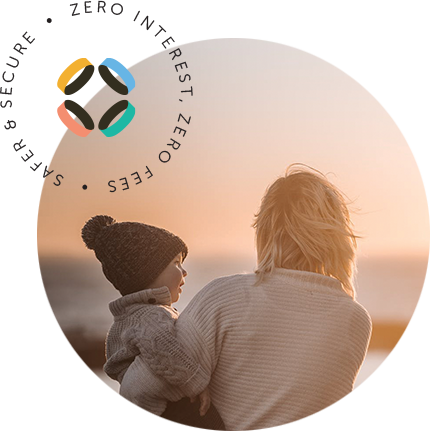 We're a non-profit

As a non-profit, we have your best interests at heart rather than charging high interest. We know how stressful it is having bills flooding in – or trying to pay off crippling, high-interest loans – so we're here to help.

Our loans are interest-free and fee-free

They're designed to help you to get on top of your money, so that high interest doesn't get on top of you. You just pay off the amount of the loan, with absolutely no interest or fees.

We help you get ahead

Your financial mentor will coach you on how to improve your money skills and help you set up your loan. That way, you'll feel less stressed and more in control.

We're not a big bank, but we're backed by one

Our loans are backed by our financial partner. Kiwibank. Like us, they're big believers in doing what's right and helping Kiwis to get ahead financially, so you know you're in good hands.
We can help you if...

You're a New Zealand citizen or permanent resident?

You're eligible for a community services card

You're happy to work with a financial  mentor
PERSONAL STORY
Meet Sonam, who used a GetControl Loan to get back on her feet financially.
At age 28, Sonam discovered she was pregnant to her long-term partner – however, he didn't want the baby at the time and was planning to leave the relationship. On top of that, her family couldn't support or help her as they don't live in New Zealand and their Visas were rejected when trying to come here for her baby's delivery.
"I had to go on the 'single mum' benefit. I was very grateful for it, but it wasn't enough," she explains. "I had previous debts from when I was working – things like the car, insurance – all of the things that come with life and children."
Fortunately, WINZ put her in touch with a financial mentor at Pakuranga and Howick Budgeting Service. He recommended that Sonam apply for a GetControl Debt Relief Loan from Ngā Tāngata Microfinance – and helped her with her application.
Our amazing partners and supporters