My Money Kete - your free money toolkit
My Money Kete* is a practical toolkit with free tips and resources to help you learn how to reduce debt and get ahead with your money.
What is My Money Kete?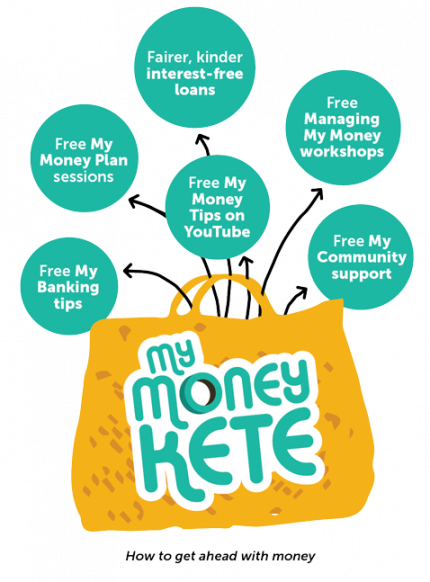 My Money Kete is a toolkit of free and easy tools and tips to help New Zealanders get ahead with money, such as:
Fairer, kinder loans for Kiwi on low incomes – GetAhead, GetControl and GetSet interest-free, fee-free loans (application required).
Free My Money Plan sessions – book free sessions with a Financial Mentor to learn how to make a money plan, make your money go further and improve financial stability for your whānau.
Free Managing My Money workshops – join our 15 to 20- minute workshops on our closed Facebook page. It's easy and you'll learn how to manage your money day to day, how to save money, and how to get through tough patches with money.
Free My Banking and KiwiSaver tips and guidelines – join our closed Facebook Group to view handy banking and KiwiSaver tips from our Community Outreach Co-ordinator.
Free My Money tips and how-to videos on YouTube – watch helpful money tips from money experts.
Free My Community support for community groups, clubs and church groups from our community Outreach Co-ordinators. Once we're up and running, we can come and talk to your group about how to get ahead with money.
Find out more about My Money Kete – sign up today!
How My Money Kete can help you
Do you want to get on top of your money ?
Do you want to learn how to avoid high-interest debt?
Do you want to teach your whānau good money habits?
Do you want to learn how to save money?
If you said yes to all of the above, then My Money Kete is for you!
Sign up for My Money Kete's free tips and tools - and start getting ahead with money.
*We provide fairer, kinder loans to low-income New Zealanders, but we don't provide financial advice.